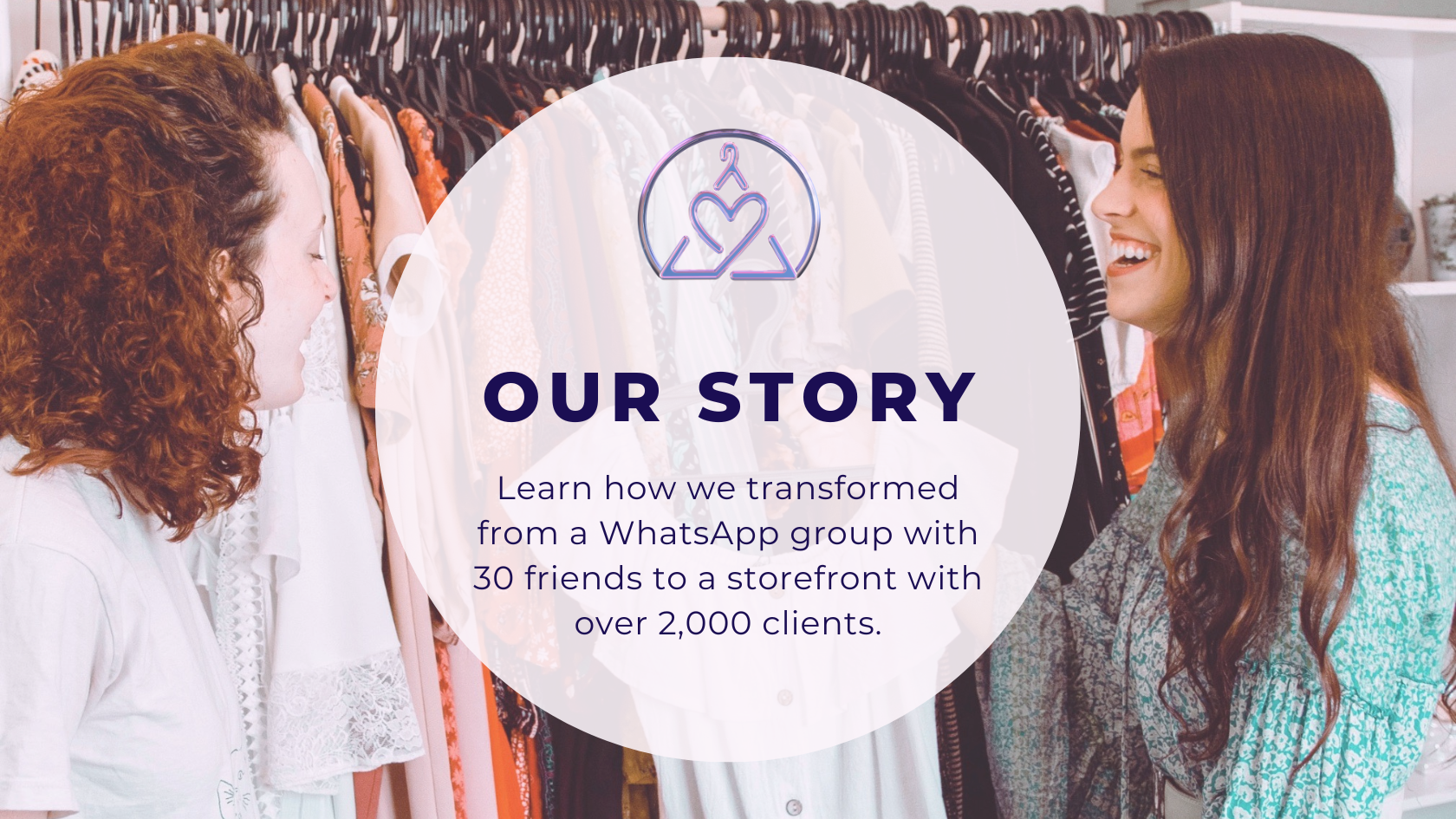 The Dressed by Danielle Story
With her parents' business operating in the basement and her own business forming in the attic, Danielle's childhood home was a breeding ground for entrepreneurship. From 11 years old selling handmade bracelets online, to building a booming nannying business at age 14, through today with her two different companies, Danielle's family has always supported her in turning her ideas into reality. Her passion for secondhand really took off during her senior year of high school when she lost a significant amount of weight and sold her clothing that no longer fit in order to finance her thrifting sprees.
(Pictured above: the attic of Danielle's childhood home where she first started selling secondhand clothing online)

Right after high school, at age 18, Danielle decided to come to Israel on a gap year program. She was supposed to go back home to the States for college, but very quickly realized that her journey in Israel had only just begun. 
After her gap year program ended, Danielle began studying at the IDC Herzliya, where she received her Bachelor's degree in Government and Diplomacy. During her first year of college, Danielle became enchanted by the untapped potential of a dusty secondhand store in Herzliya and embarked on a year-long journey to revitalize it. Planning, recruiting, organizing, and marketing, Danielle transformed the shop into a thriving community hub, all in exchange for secondhand treasures.
(Pictured above: the instagram account that Danielle created for the secondhand shop she managed while in college)
As life is filled with surprises, things took an unexpected turn for Danielle which left her with a ton of passion and experience but no longer a safe place to channel it through.
Facing this challenge with resilience and a little bit of 'screw that' energy, she gathered all the clothes she got from the store and started selling them herself. She created a Whatsapp group with 30 of her friends, intuitively named it "Dressed by Danielle", and started selling. Pretty quickly, women began asking to try things on so she began scheduling sessions for them to come by, exchange their clothes, and try on any items Danielle thought might fit them. And thus, the Private Shopping Session was born. 
(Pictured above: Danielle's college bedroom full of bags with secondhand clothes for sale.)
By the time she finished college she had rented out a second room in her apartment to be her studio and was conducting the Dressed by Danielle business full time. She started organizing photoshoots, hosting sale events, and networking with other local creatives to get the word out. Before she knew it, Danielle was fully booked out three months in advance. 
(Pictured above: Danielle's first home studio in Herzliya)
In 2020, when things changed for all of us, Danielle saw the extra time she had at home during lockdown as an opportunity to start creating more meaningful content online. She began educating herself and her followers on the impacts of fast fashion and the importance of adopting more sustainable shopping habits. She found creative ways to collaborate with other women business owners, hosted giveaways, and posted tutorials on how to upcycle clothing. As the year progressed and her online following grew, Danielle found the courage to open up about her personal struggles with body positivity and standards of perfection in hopes that she might inspire others who shared similar struggles.
(Pictured above: One of Danielle's first Instagram posts about body acceptance.)
In July of 2020 she had her first or three pop-up shops in Tel Aviv which were a complete hit and really gave her the push she needed to make the move from Herzliya to Tel Aviv. She got the keys to her Tel Aviv studio/apartment in November 2020 and continued conducting Private Shopping Sessions there for about a year and a half.
(Pictured above: Danielle's home studio in Tel Aviv.) 
Throughout this time Danielle opened another two pop-up shops, each one bigger and better than the last. 
(Pictured above: Danielle's second and third pop-up shop in Tel Aviv.) 
The stability Danielle found during this period of time allowed her to start her second company, House of Healing. Not only did she meet her business partner, Natalie, through Dressed by Danielle, but the transition to owning a holistic healing center felt very natural because of all the work she had been doing with Dressed by Danielle in helping women heal and improve their relationships with their bodies.
(Pictured above: Danielle and her business partner Natalie at House of Healing.) 
May 2022 was a turning point for Danielle and her business, the moment she got the keys to her new storefront on Ben Yehuda Street. What used to be a tuxedo shop for 16 years, now was abandoned and full of trash. Danielle immediately saw the potential in this property and decided to take on the challenge of transforming this completely neglected space into not only her dream shop but also a place to nurture, grow and build her community. 
(Pictured above: The new Dressed by Danielle storefront on Ben Yehuda Street, Tel Aviv.) 
This whole journey has been full of challenges, unexpected turns, sweat and endless effort and passion. We're incredibly excited to see where this next chapter of the Dressed by Danielle story takes us and we would love for you to be a part of it.