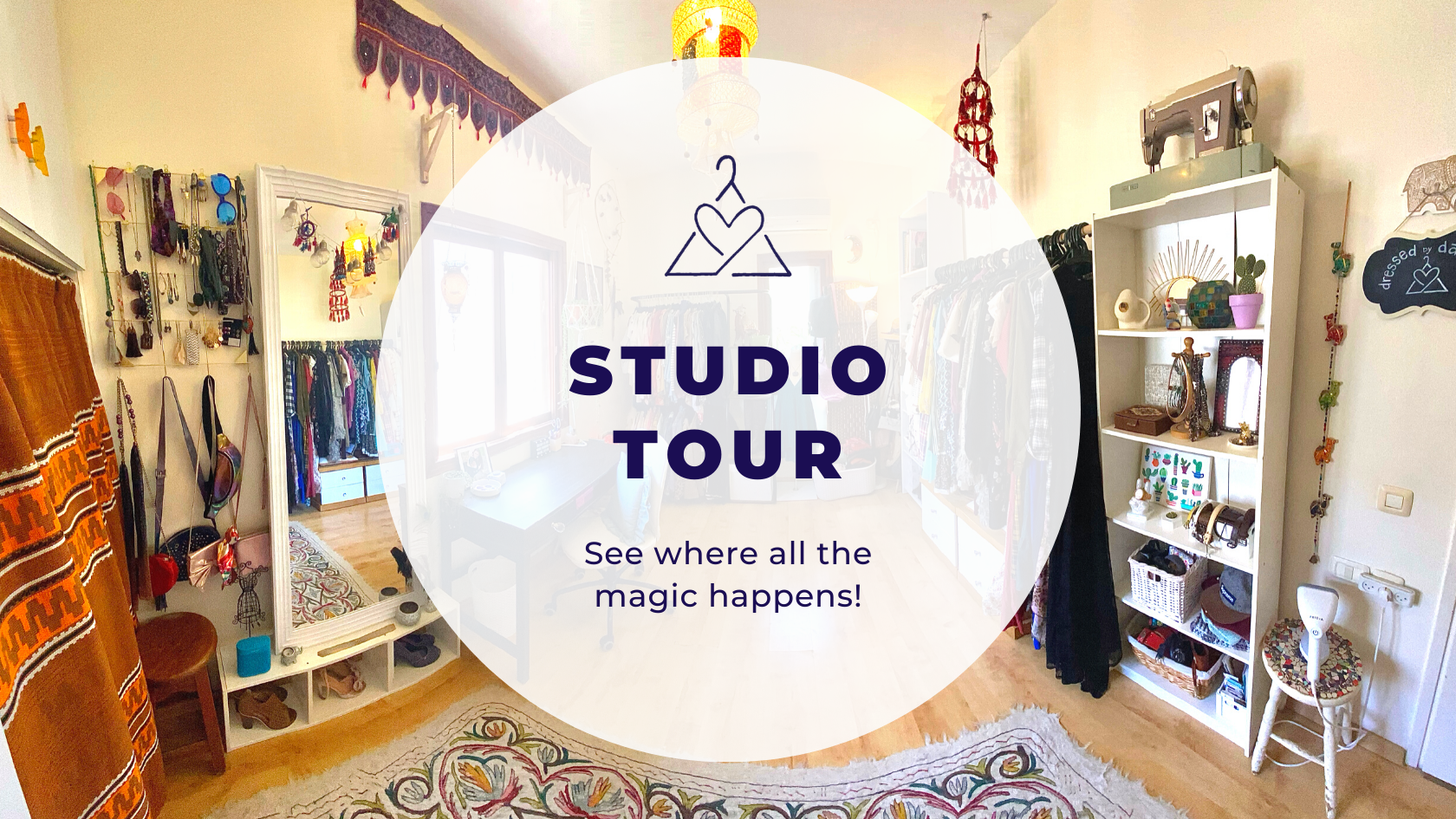 A Tour of the Dressed by Danielle Studio!
As I looked around my studio, trying to figure out what to write my very first blog post about, I suddenly realized that the topic was staring right back at me! My studio is where I spend most of my time these days and it has been the vehicle for making my dream job possible. 
I welcome an average of 20 women each week into this colorful and eclectic space that I've poured my heart into creating. While I hope that most of the people reading this will, or have already gotten to, experience the magic of this room first hand during a Private Shopping Session, I am excited to offer those who cannot a little virtual glimpse inside! 
Upon entering the studio, you will step onto a colorful, embroidered rug beneath a mirror which you quickly come to understand is the PERFECT size. This side of the room is the changing area where my clients spend the entirety of their two-hour sessions trying on every piece in my collection that tickles their fancy! 
Surrounding this area- on the bookshelf, bamboo ladder, and metal grid display- are all kinds of accessories for sale, including jewelry, scarves, hats, bags, and other special treasures. These accessories are actually the only items in my collection that I encourage my clients to look through by themselves.
It is my job to show them the rest of my collection (i.e. all of the clothes, shoes and swimwear) which is both displayed on the clothing racks and stored in the floor-to-ceiling closet. All of the dresses for sale are hanging on the unique rack  in the middle of my studio that my boyfriend built for me using a wooden broomstick and some rod fasteners between two bookshelves. 
The other, two-story clothing rack is where I store all of the tops and jackets for sale. Whatever tops can't fit in the hanging space get folded in the bin at the bottom of this rack. 
The shoes for sale are spread out all around the room. The majority of them are stored in the bottom drawer of the closet and a large wicker basket. There are also shoes on the bookshelf, under the mannequin, stacked in boxes, and displayed wherever else I can fit them. What can I say? I just can't refuse adorable shoes! 
Almost every client that comes to shop brings with them clothes that they no longer wear or want and exchanges them for credit to shop! The pieces that I decide to take from my clients, as well as items that I bring home from my weekly trips to thrift stores, all get put into my "need to intake" bin and remain there until more hangers and storage space free up. As so, this corner basically functions as the rotating door for my inventory! 
Lastly, but certainly not least, is my beloved desk space! This is my command center and portal to all of the virtual aspects of my business. I actually found my desk on the side of the road (yes, I know this seems bizarre, but its quite common here in Israel), gave it a good cleaning, and added some cute knobs to make it feel like new!
Of course, no space of mine would be complete without a few cacti and some accessories that make me smile. In this case, I chose a picture of me with my fur brother Zeus, some positive reinforcements in the form of a letter board and a painted rock, a tray full of branded stickers, and some candles! 
I'm always looking for new ways to improve my studio and create content that my clients and followers will enjoy! I'd love to hear your thoughts in the comments below, and if you have any recommendations for future blog topics, please share! 
Several photos in this post were taken by the talented Gital from @git.photography - go check out her work! 
1 comment
🌺Hello Darling Danielle! Cousin Gerri here. Your studio is so warm, with beautiful Colors & textures that are a feast for the eyes & spirit! I'm guessing that your clients have a hard time leaving you, the love (I can feel across the miles) and the oasis you provide. You're a healer, that adorns your clientele wonderfully! xoxo

Gerri Mc Ginley on