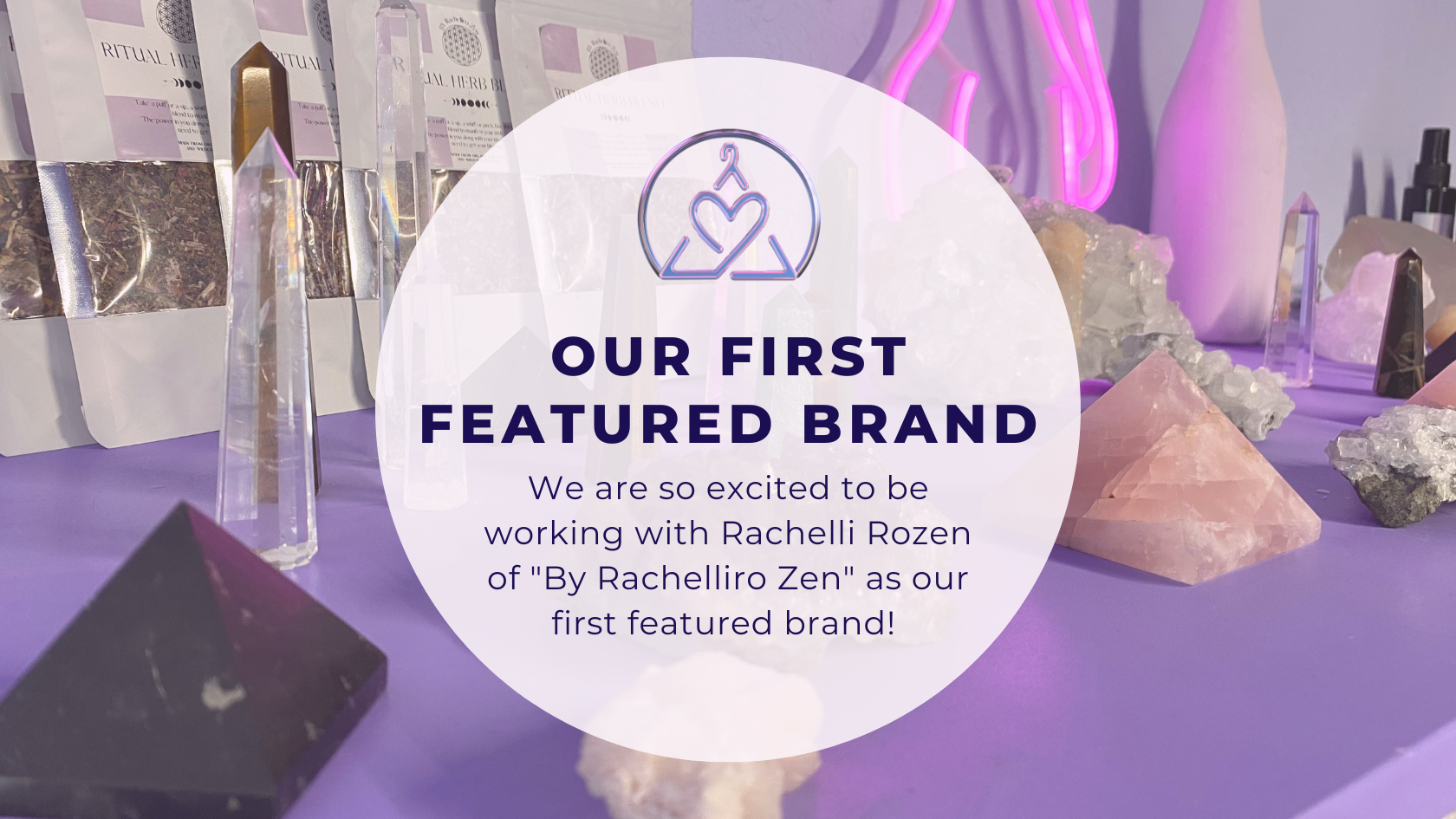 Our First Featured Brand: By Rachelliro Zen
At Dressed by Danielle, we are always looking for new ways to expand our community and connect with other like-minded individuals and brands. 
We have a section of our shop that is permanently dedicated to featuring other sustainable, women-owned brands that offer physical products. 
We are so excited to be working with Rachelli Rozen of "By Rachelliro Zen" as our first featured brand! For the next month, a special collection of Rachelli's products will be up for sale in our store. At the bottom of this article you can find information about all the available products. 
But first, lets hear a little bit about By Rachelliro Zen from Rachelli herself: 
"I originally created my products because well,  they were needed. Finding all natural -and by all natural I mean really all natural, everyday products is rare. After awakening to how harmful everyday toxins can be to our health I started searching for alternatives. And couldn't find them. So I made them. Soon my friends and family  started asking me for remedies and replacements for their products. Each product is based on real life solutions and every day needs. Right now I am focusing on delicious luxury self care for a discerning clientele of people who love themselves and the planet. My ingredients are carefully sourced from quality  organic and fair trade suppliers. As my brand grows I will be adding hygiene and home care products as well. I also import all sorts of ceremonial products, hand-mined crystals, and metaphysical tools. These items are directly supporting small businesses of indigenous people around the world. Follow me on instagram to learn more about these special products  and to keep up with all exciting news and updates."
About the products: 
Crystals
Created deep in the earth under centuries of pressure, crystals are a big conductor of energy. Along with being used in just about all of modern day technology, (i.e. LCD, lasers, microscopes, watches and more.) we can harness this special power to use for healing. The different, colors, chemical makeups and crystalline structures all compound into different healing properties. Along with our own power of intention, crystals are our friends in healing and creating special spaces.

◦ Rose quartz- balances emotional health, releases blockages and promotes self love
◦ Black tourmaline- protective and grounding
◦ Shungite- powerful healing tool, relieves stress, and protects against EMF
◦ Clear quartz- enhanced mental clarity, protective, and can be used in meditation and to amplify psychic abilities
◦ Amethyst- protective stone that relieves stress and anxiety, headaches, fatigue and can assist in cell rejuvenation.
◦ Apopholite- aids cleansing of the aura field and helps send high vibrational cleansing through you
◦ Selenite- a highly spiritual stone. Brings peace and purity to one's life. Represents wisdom and is connected to the third eye as well as the crown
Rose Quartz Roller and Gua Sha:
Used for centuries in beauty and health care these massage tools can help you shape your face, clear puffiness and reduce inflammation. Amazing for releasing tension through the face, an integral and often forgotten body part for connecting to yourself. This ritual brings you back to your senses, wakes you up and continues your day in a bubble of self love inspired by your self care and the lovely rose quartz. 
Herbal Blend:
This divine blend is made with a mix of hand gathered healing flowers and herbs from the wild, the land I steward and other organic sources. You can use it through inhalation, to burn with a prayer, in your tea and best of all a facial or Yoni steam! Support your well-being and your local flower fairy at the same time.
Agua de Florida:
Flower water for your mind, body and soul. Inspired by ceremonial scents from the jungle, this spritz helps you take a deep breath in and return to your center. For a moment to rebalance, to reset your mood and remember your purpose.
White California Sage:
This traditional plant is widely used to clear unneeded energy, bacteria, unwanted smells and bugs among other healing properties. It's clear white smoke, different than the common local sage plant leaves behind a crystalline energy and inspires health, balance and good mood. Ethically and sustainably gathered by native Americans in Southern California.
Palo Santo:
Scents of divinely sweet and spicy wood straight from the jungles of Ecuador. This ethically sourced plant medicine helps you purify and bring good energy in your space and your aura. With properties to help migraines, pains, anxiety and other ailments whether physical, mental or spiritual. In ancient Jewish practice and many other sacred ways we burn all kinds of incense to give thanks, pray and celebrate life.
Rachelli's collection will be featured until the end of October, so make sure to stop by our next Open-Door Day or book a Private Shopping Session so you can come take some of these magical goodies for yourself!